Have your say for the future of biodiversity protection: BESAFE invites you to take part in the project's second stakeholder workshop
28.02.2014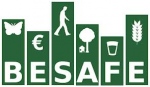 Care about biodiversity protection and science-policy dialogue? The second BESAFE stakeholder workshop might be just the thing for you.

The BESAFE project invites all interested policy makers, NGO representatives, decision makers and people, who argue ('lobby') for biodiversity protection to take part in its second stakeholder workshop, focusing the results from the project case studies and the best ways to make them useful through a stakeholder focused web-based tool.

The workshop will be held on 13 and 14 May 2014 at the Park Inn Brussels Midi, Brussels, Belgium. To register and participate is easy just follow this link: http://besafe.pensoft.net/page.php?P=104, which will take you to an easy to follow and use registration page.

On the afternoon of 13 May BESAFE will present the results of the project's case studies and then their use and implications will be discussed with stakeholders. The morning of 14 May is reserved for a learning workshop on the best ways to unlock and present project results. As committed stakeholder involvement is crucial to BESAFE's success, we hope that you will be able to join us in Brussels!

In a nutshell, BESAFE investigates the effectiveness of different types of arguments in convincing policy makers to take action for biodiversity protection in a variety of circumstances. The project has two specific focus areas: the interactions of environmental protection policies between governance scales, and the contribution that ecosystem services
BESAFE is committed to produce practically usable results and to make them available and easily accessible through a web-based tool. This is a goal we can clearly only achieve through input and feedback from stakeholders. BESAFE is therefore set up as an interactive project in which we inform and consult those on a regular basis.

Deadline for registration is the 1st of April 2014, but registration will be closed earlier when our limit of 25 stakeholders is reached. Due to this limited capacity, registration is subject to approval.

all news »