INBO training sessions at 'train-your-colleague' week
02.12.2015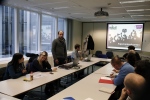 Every year the Flemish government organize a 'train-your-colleague' week. During that week professionals from various fields of expertise and policy domains provide training sessions to interested colleagues.

After the final BESAFE conference, INBO as a member of the BESAFE consortium was solicited to provide a 2h session on argument mapping for policymakers. Using argument maps policymakers can gain insights on the range and types of arguments used by stakeholders and consequently tailor relevant responses to stakeholders concerns. It also allows them to structure meetings on complex issues and facilitate inter-agency communication.

Participants to the session came from various governmental agencies such as the Nature and Forest Agency, Child & Family, Spatial Planning, Enterprise Flanders, etc. During the session the potential benefits of using argument maps in policy were outlined and discussed, and basic argument mapping skills were taught and tested by participants using practical examples.

all news »